EU project CREMLIN launched in Moscow
19 October, 2015
A new EU project under the management of DESY is hoping to connect European and Russian research institutions more closely, with a view to using large-scale scientific infrastructures more effectively. The inaugural event of this cooperative project entitled CREMLIN (Connecting Russian and European Measures for Large-scale Research Infrastructures) has now taken place in Moscow. It brings together 13 large-scale research facilities and institutions in the European Union and 6 in Russia.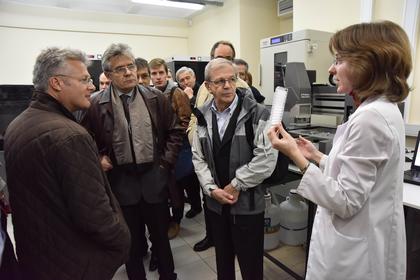 Russia is already participating in European research facilities such as the European XFEL, FAIR, ESRF or LHC experiments, however CREMLIN is meant to encourage European scientists to get involved in new large-scale Russian projects, too, such as the planned ion collider NICA in Dubna, the research reactor PIK in Gatchina, outside St. Petersburg, and the Super Tau Charm Factory STC in Novosibirsk.
"With CREMLIN, we are launching a joint European and Russian project, funded by the European Union, which is meant to achieve a closer and more efficient coordination of the planning, development and utilisation of large-scale research infrastructures," DESY's Director Helmut Dosch emphasised at the kick-off. "In this way, CREMLIN wants to help to deepen the scientific dialogue between Europe and Russia."
At the kick-off meeting, the CREMLIN work groups agreed on the detailed work programme for the first twelve months of the project, which is initially set to last three years. "CREMLIN is meant to build bridges between Europe and Russia, and open up Russian facilities more for European and international users too," says Martin Sandhop, who is coordinating the project at DESY.