CREMLIN at the EC Info day in Moscow
17 January, 2018
On 19 December 2017, the Russian National Contact Point for Research Infrastructures (NCP RI) at the Moscow NUST MISIS University hosted an "Info day", addressing the topic "Deepening EU-Russia Strategic Cooperation in the Area of Research Infrastructures (RI): Challenges and New Opportunities". The CREMLIN project largely contributed to this event.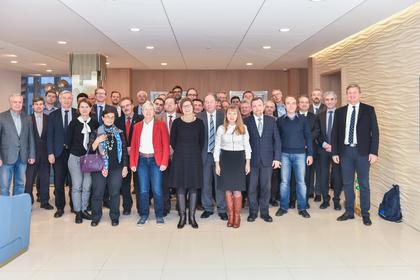 The Info day has been initiated by the European Commission, and it has been organised together with the EC and the EU Delegation to Russia, the Ministry of Education and Science of the Russian Federation, the NCP RI and the National University of Science and Technology NUST MISIS as the host of the event.
The key aim of the Info day was to illustrate to the Russian RI community the spectrum of opportunities for EU-Russian cooperation along RI within the European Framework Programme Horizon 2020, with a focus on the Work Programme 2018-2020: The call INFRASUPP-01-2018-2020 will open the opportunity for a flagship initiative with Russia that will specifically build on the recommendations found in the ongoing CREMLIN project. Philippe Froissard, Deputy Head of Unit "Research infrastructure" at the EC, explained the call details, after Richard Burger - Research & Innovation Counsellor at the EU Delegation to Russia – had introduced into the research political context of the European-Russian Science and Technology Cooperation.
More than 80 participants from within the CREMLIN community as well as beyond, attended the Info day, most of them representatives from the Russian RI, from Moscow, Saint Petersburg, Tomsk, Rostov on Don, Kaliningrad, Novosibirsk and other cities in Russia, but also a number of European representatives.
The CREMLIN recommendations so far identified within the project were addressed during a specific talk ("The CREMLIN Project: Achievements, status and perspectives") and were discussed during two Round tables with European and Russian stakeholders from the megascience collaboration on the five Russian PIK, NICA, SCT, XCELS and SSRS-4 projects, with participation of the audience in the discussion.
The discussions have clearly shown that the respective collaborative communities strongly intend to deepen and extend their collaboration within a European project to jointly develop instrumentation at RI, and to jointly develop future technologies at European and Russian facilities fitting to the call to extend beyond the present CREMLIN consortium.
After the Info day, the participants were invited to attend an informal afternoon session initiated by CREMLIN in order to further discuss topics like "facilitating access of European scientists to Russian facilities", integrative activities aiming at fostering best practice exchange and mutual learning, and also perspectives on joint development of future technologies required for RI beyond the megascience projects".